Michael Turenne
---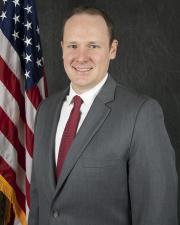 Biography
—
Michael joined KLETC in 2019.  Michael served over 5 years with the Wichita State University Police Department.  Michael completed the FBI-LEEDA's 311th session of Supervisor Leadership Institute for Law Enforcement Executives.  
Michael holds a Bachelor of Arts in Criminal Justice and a Master of Arts in Criminal Justice, both from Wichita State University. 
Michael was promoted to Class Coordinator in June 2020.