Robert McClarty
---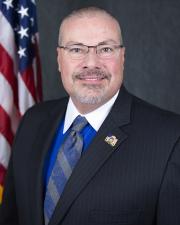 Biography
—
Robert joined KLETC in 2019. He retired after 32 years of progressive responsibility in law enforcement, 28 years full-time Kansas law enforcement experience; the last eight years as Chief of Police for McPherson, the 20 years prior with the Hutchinson Police Department.  
Robert holds a Bachelor of Science in Criminal Justice from Central Christian College of Kansas. He is a graduate of the FBI National Academy #261, FBI Law Enforcement Executive Development Seminar, the FBI Media and Public Relations Course, and of the KU Law Enforcement Leadership Academy Command School, where he also earned his Certified Public Manager Certification.  
Robert was promoted to Police Instructor Senior, Class Coordinator in June 2020.