Steve McCorkill
---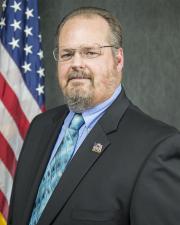 Biography
—
Steve joined KLETC in September, 2016.  Prior to that time, Steve was a Police officer in Shawnee, Kansas (ret.) and Garden City, Kansas.  Steve served as an adjunct instructor at the Johnson County Regional Police Academy.  
Steve holds a master's degree in Adult and Continuing Education from Kansas State University, a bachelor's degree in Human Resource Management from Friends University, and an associate's degree in Criminal Justice from Pikes Peak Community College in Colorado Springs, Colorado.  
Steve was promoted to Police Instructor Senior, Class Coordinator in June 2020.