Wall of Honor
---

The Wall of Honor, dedicated in August of 2000, was built at the Training Center to recognize those KLETC graduates who have died in the line of duty, which is "the supreme sacrifice." This is a project long in planning. It finally became a reality in August 1999 through the generosity of the Kansas Association of Chiefs of Police and donations from several basic training classes.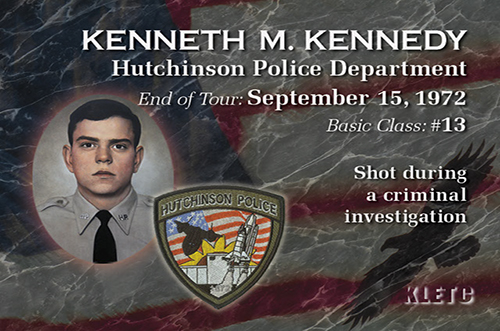 Officer Kennedy was making an undercover purchase of alcoholic beverages at a location suspected to be bootlegging and operating illegal gambling devices. After making the purchase, Officer Kennedy and fellow officer John Coldren identified themselves and attempted to make the arrest. As the officers scuffled with suspect Elmo Anderson, a Mrs. Jobe came from the kitchen with a gun and shot Coldren and Kennedy. Before he was shot, Kennedy shouted a warning at Coldren who turned, thus causing the shot to miss a vital mark. Kennedy shot Mrs. Jobe before he died. Coldren survived his wound. Mrs. Jobe was convicted of second degree murder.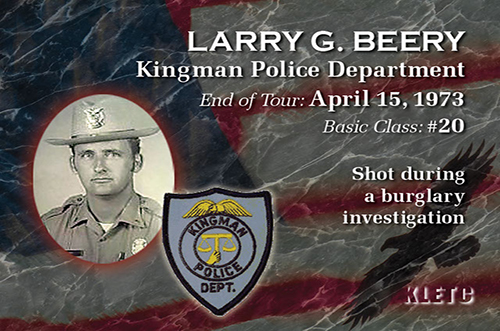 While making a routine building check at a drug clinic, Captain Beery, in plain clothes, was evidently ambushed by an unknown assailant or assailants. He was taken a short distance to an alley, forced to kneel, and was shot in the head with his own weapon. The night patrol had been initiated because of a large number of burglaries in the area.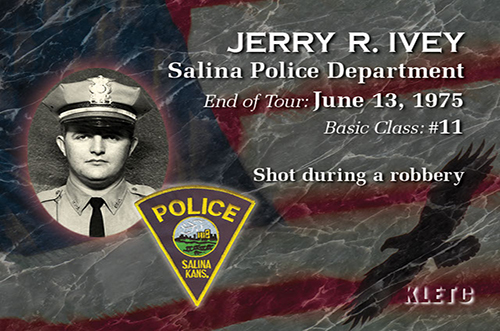 Officer Ivey stopped a vehicle answering the description of a car used moments earlier in a robbery at a Dillon's grocery store. The suspect jumped from the car, sprayed the officer with mace, and both men drew their weapons. Ivey fired six rounds and the suspect fired twelve. As Ivey attempted to reach his shotgun in the patrol car, the suspect shot him in the back. Following a chase and additional gunfire, the suspect was captured by several police officers.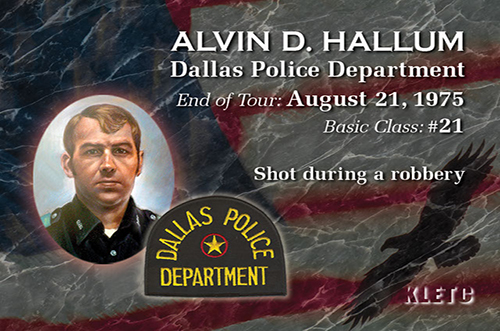 Officer Hallum began his police career in Frontenac, Kansas. He later became a police officer in Girard, Kansas. He later joined the Dallas, Texas Police Department. In Dallas, while answering a robbery call at a service station, he was shot and killed by the suspect. Suspect was later apprehended.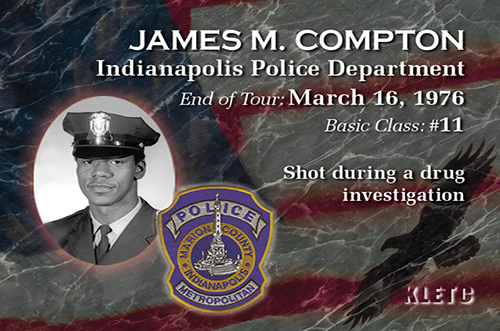 Officer Compton left the Olathe Police Department in 1973 to join the Indianapolis, Indiana Police Department. While working in an undercover drug operation he was shot and killed by one of the drug offenders. The offender was apprehended.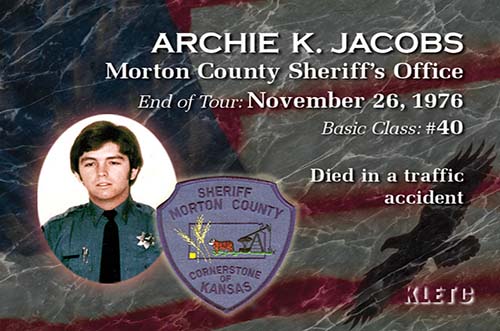 On November 26, 1976, while on patrol in a zero visibility blizzard, Morton County Sheriff's Deputy Archie K. Jacobs' car and another vehicle collided at a rural intersection. Deputy Jacobs had been on the force for two years and was only 22 years old when he died.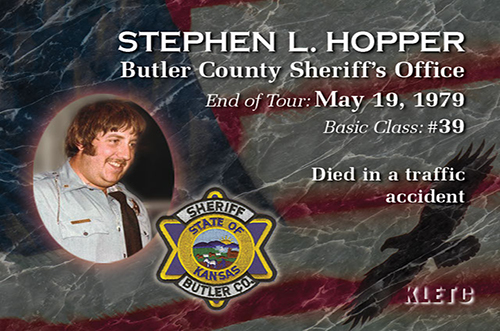 Sergeant Hopper, a former Andover chief of police, was responding to a civil disturbance call. En-route, he was killed in an automobile accident.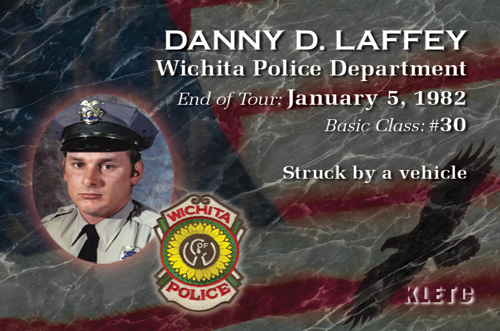 Officer Laffey was investigating a disturbance call at the Zanibar club. He had stopped a suspect vehicle in the street and was in the process of removing the occupants when a passing vehicle, traveling at a high rate of speed and having defective brakes, jumped the curb and struck Officer Laffey.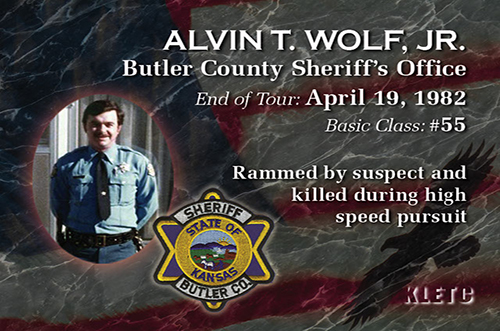 A semi-truck driver, involved in several hit-and-run accidents, was being pursued through Sedgwick County. As he approached the Butler County line he encountered a roadblock that had been set up by the Butler County Sheriff's Department. The driver of the truck ran the roadblock and Deputy Wolf gave chase. Wolf passed the truck hoping to get in front and slow the truck down. The offending vehicle rammed the deputy's car several times, finally locking bumpers. The truck and patrol car left the road and rammed a house, killing Wolf instantly.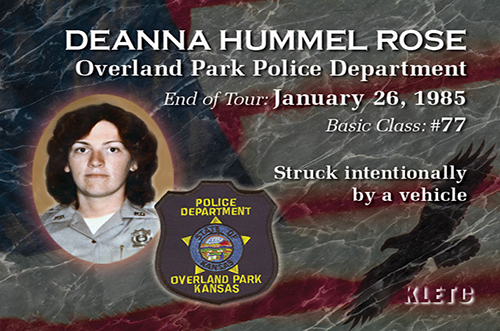 Officer Rose, the first woman officer to be killed in the line of duty in Kansas and the only city officer to be killed in Overland Park, had stopped a vehicle and was attempting to arrest the driver on suspicion of driving while intoxicated. She was fatally injured when the suspect driver knocked her to the ground and then intentionally struck her with his vehicle. She died two days later from her injuries. Prior to working for the Overland Park Police Department, she had graduated from Wichita State University and had been a member of the San Diego, California County Sheriff's Office.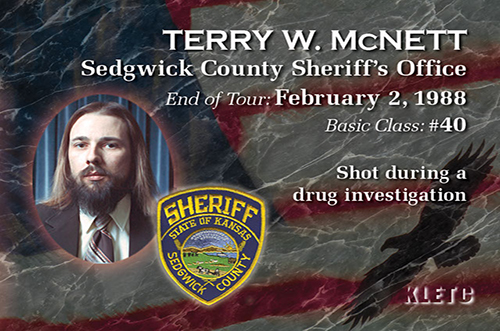 On February 2, 1988, Detective Terry McNett, while performing a public service for the community that he deeply believed in, made his final contribution--his life. While conducting a search of a residence during an investigation, McNett entered a darkened room and was immediately cut down by gunfire. A suspect was apprehended and charged with his murder.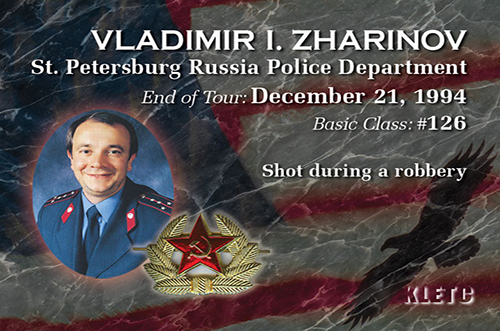 On December 18, 1994, Major Zharinov, one of five Russian exchange officers who attended the 126th Basic, witnessed an armed robbery at a market in St. Petersburg, Russia. He confronted the robbery suspects and during an exchange of gunfire he wounded two of the men. Major Zharinov was also wounded. As he was laying helpless and unconscious, the suspects disarmed him and shot him with his own weapon. Major Vladimir Ivanovich Zharinov died of his wounds on December 21, 1994. All four robbery suspects were apprehended.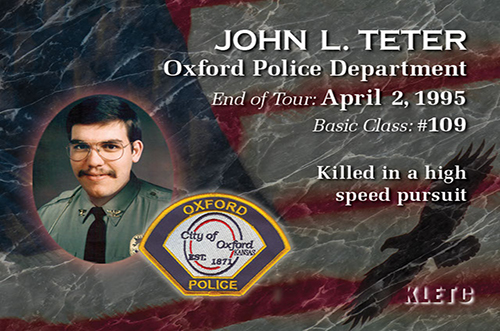 During the early morning hours of April 2, 1995, Chief John Teter responded to assist the Winfield Police Department. Winfield police officers were in pursuit of a stolen minivan. The pursuit resulted in a high-speed chase. Chief Teter joined the chase. During the course of the chase, Chief Teter's vehicle rolled over and he was critically injured. On April 9, 1995, Chief Teter died as a result of the injuries sustained.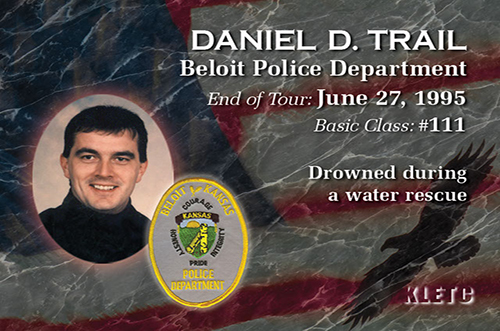 On June 27, 1995, Officer Daniel D. Trail was attempting to reach one of two youths who were trapped in the strong current of the Solomon River. During the attempt, Officer Trail lost his footing and slipped into the water. The strong undercurrent of the river pulled him below the surface. Rescue efforts were immediately initiated, however, they were unsuccessful. Officer Trail's body was recovered on June 28, 1995.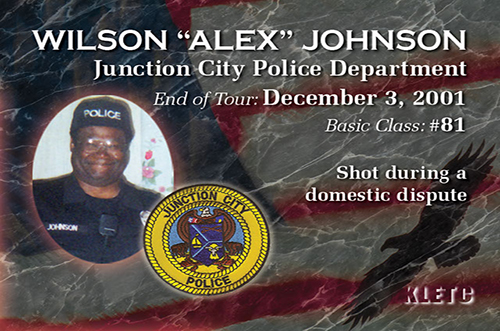 On December 3, 2001, 18-year veteran officer Wilson Johnson received a fatal gunshot wound while assisting a domestic battery victim to recover her two children who were being held in a Junction City apartment building. The domestic battery suspect shot Officer Johnson during a confrontation in the apartment. After fatally shooting Officer Johnson and finding his escape thwarted by other arriving police officers, the suspect committed suicide.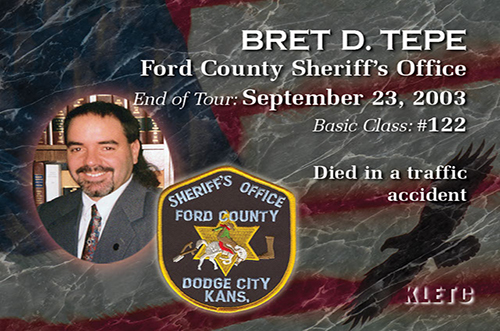 On the morning of September 23, 2003, Ford County Sheriff's Office Investigator Bret D. Tepe was driving to meet with an agent from the Kansas Bureau of Investigation to conduct interviews. Investigator Tepe was traveling on Highway 50 west of Spearville when the right rear tire of an eastbound vehicle blew out. That vehicle went left of center, striking Investigator Tepe's vehicle head-on. Investigator Tepe was pronounced dead at the scene of the accident. The driver of the eastbound vehicle also died in the accident.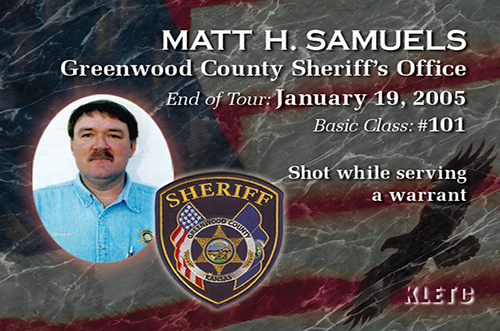 On January 19, 2005, Sheriff Matt Samuels and two deputies attempted to serve a parole violation arrest warrant at a residence near Virgil, Kansas. One deputy covered off the rear of the residence while Sheriff Samuels and the second deputy made contact at the front door with one of the home's occupants. Invited in, Sheriff Samuels stepped inside the home and was shot and killed by the parolee who was hiding in the residence. Sheriff Samuels was elected Greenwood County Sheriff in 2000, and was just a few days into serving his second term as Sheriff.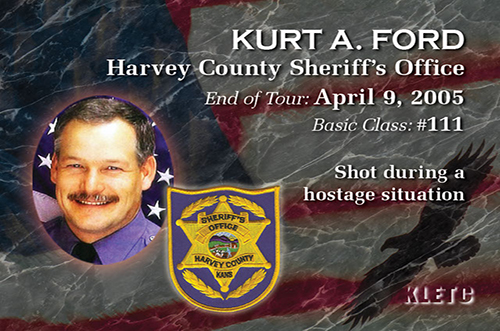 Deputy Kurt Ford was fatally wounded on April 9, 2005 when he entered a Newton home during a domestic violence situation involving a standoff with law enforcement officers. Deputy Ford forced his way into the suspect's home after hearing a woman being struck inside the residence. Upon Ford gaining entry into the home, the suspect fired at and fatally wounded Deputy Ford. The suspect was taken into custody.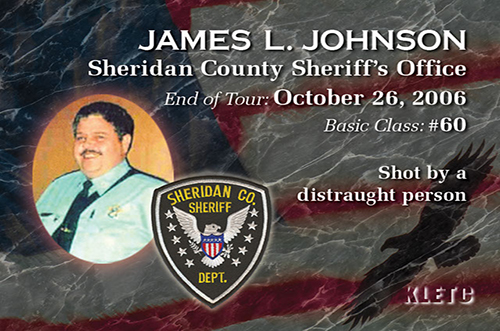 Inside his office Sheriff James L. Johnson was interviewing a distraught individual about his deteriorating mental health condition. After agreeing to a voluntary commitment to a mental health facility, the distraught individual pulled out a gun and shot Sheriff Johnson several times before being shot and killed by a deputy who had temporarily stepped out of the room to make the necessary transportation arrangements for the voluntary commitment.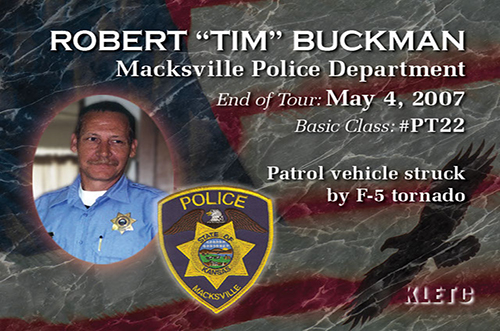 In the late evening of May 4, 2007, Macksville police officer Robert "Tim" Buckman was alerting Stafford county residents of an approaching tornado that had just literally destroyed the city of Greensburg in the neighboring county. Officer Buckman's patrol vehicle was struck by an F5 tornado and was lifted into the air and thrown 300 feet from the highway, destroying the vehicle. Officer Buckman succumbed to his injuries four days later on May 8, 2007.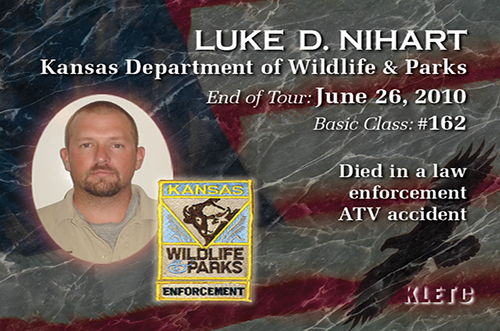 Kansas Department of Wildlife and Parks Ranger Luke D. Nihart was killed when his all-terrain vehicle went out of control and crashed as he was working the Country Stampede concert at Tuttle Creek State Park on June 26, 2010. Park Ranger Nihart began his services with the Kansas Department of Wildlife and Parks after graduating from the Kansas Law Enforcement Training Center in December 2000. Luke was awarded the KDWP Award of Valor in 2005 and the Kansas Recreation and Parks Service Award in 2003 and 2004. Park Ranger Nihart was 32 years old at the time of his death.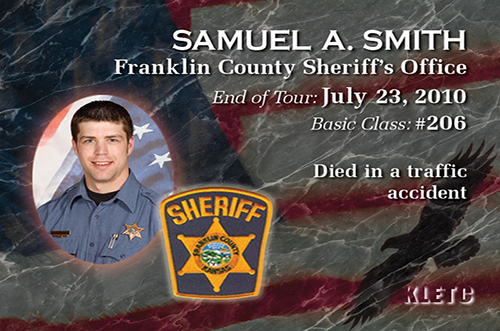 Franklin County Sheriff's Deputy Samuel A. Smith was killed en route to a domestic disturbance call near the City of Pomona on July 23, 2010. Deputy Smith lost control of his patrol vehicle, left the roadway and struck a tree. Deputy Smith began his service with the Franklin County Sheriff's Office in November 2009 and graduated from the Kansas Law Enforcement Training Center in the spring of 2010. Prior to joining the Sheriff's Office, Sam was known for his community service work. The Ottawa City Commission recognized his volunteer service by observing November 12, 2001 as Sam Smith Day. Deputy Smith was 22 years old at the time of his death.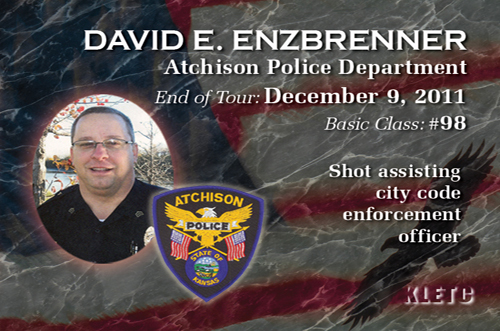 On December 9, 2011 Sgt. David Enzbrenner of the Atchison Police Department responded to a residential neighborhood to assist a city code enforcement officer enforce a city nuisance ordinance. Shortly after the police enforcement activities had ceased and other uniformed officers had left the scene, an individual who had no known association with the code enforcement action and whose grandparents lived adjacent to the scene, walked among the neighborhood onlookers and suddenly without provocation walked up behind Sgt. Enzbrenner and shot him in the back of the head with a 9mm handgun. Sgt. Enzbrenner was in full police uniform and did not have the opportunity to draw his duty weapon.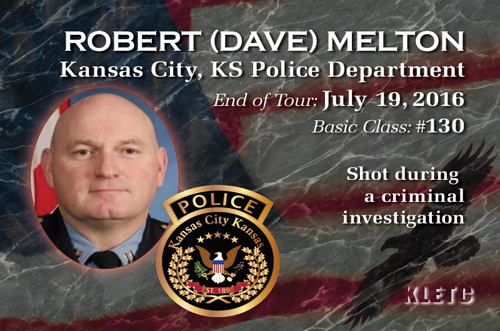 On July 19, 2016 Captain Robert "Dave" Melton of the Kansas City Kansas Police Department responded to an armed disturbance. A general description of the suspect vehicle was broadcast and shortly thereafter officers located the vehicle. A vehicle pursuit was initiated to the area of 15th and Rowland, at which time the suspects bailed from the vehicle. One suspect was quickly taken into custody and was found to be in possession of a firearm. The second suspect fled on foot to the area of 22nd and Haskell where Captain Robert Melton encountered him. Several shots were fired by the suspect at Captain Melton. Captain Melton sustained critical injuries from the gun shots and was transported to KU Medical Center where he died from his injuries.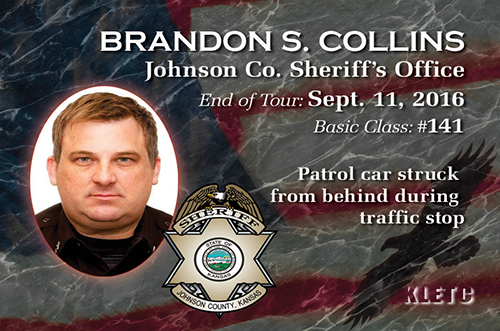 Master Deputy Sheriff Brandon Collins of the Johnson County Sheriff's Office was killed on September 11, 2016 when his patrol car was struck from behind while he conducted a vehicle stop on northbound U.S. 69, near West 143rd Street in Overland Park. He had re-entered his patrol car when a pickup truck struck it from behind, causing it to burst into flames. The driver of the pickup truck fled the scene on foot but was arrested a short time later. Deputy Collins had served with the Johnson County Sheriff's Office for 21 years. He is survived by his wife and two daughters.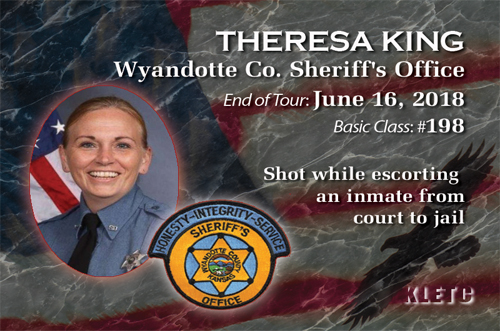 Deputy Sheriff Theresa King and Deputy Sheriff Patrick Rohrer were shot and killed as they transported a prisoner to the Wyandotte County Correction and Court Services Building, at 800 7th Street, at approximately 11:15 am. They were unloading the prisoner from the transport van in the facility's exterior sally port when the man attacked them. He was able to disarm one of the deputies and shot them both. Despite being mortally wounded, one of the deputies was able to return fire and wounded the subject. Deputy King was transported to a local hospital where she passed away shortly after midnight.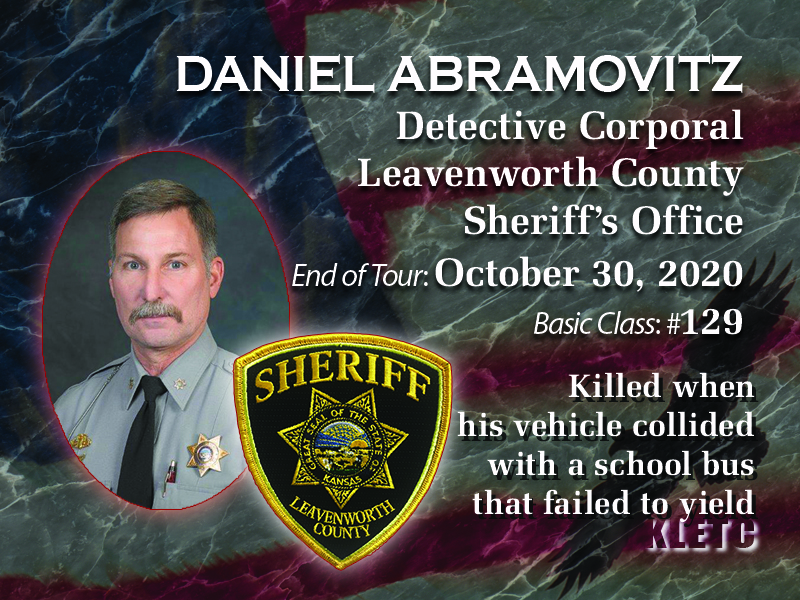 Detective Corporal Daniel Abramovitz was killed on October 30, 2020, when his patrol vehicle struck the side of a school bus that failed to yield the right of way.  Due to the severity of the collision, Detective Abramovitz died on scene. The operator of the school bus was injured and taken to a local area hospital. The juvenile passenger on the school bus sustained minor injuries and was released to his parents. Detective Abramovitz served with the Leavenworth County Sheriff's Office for 26 years.  He is survived by his wife and three children.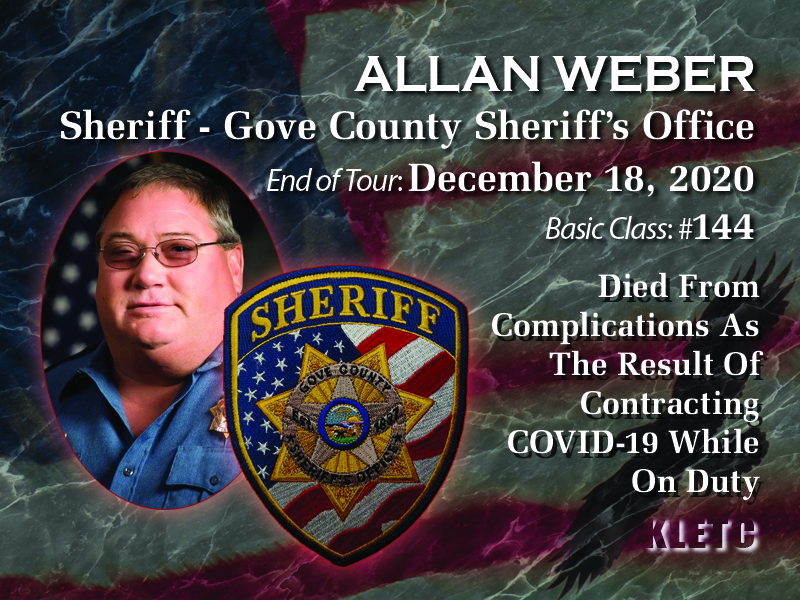 Sheriff Allan Weber died from complications as the result of contracting COVID-19 while on duty at the Gove County Emergency Operations Center in Quinter.
Sheriff Weber had served the Gove County Sheriff's Office for 24 years. He is survived by his wife and three children.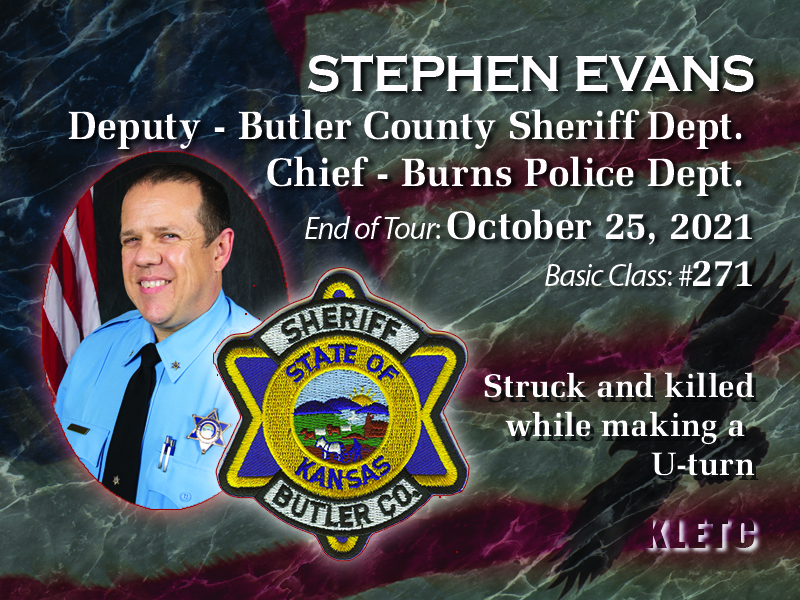 Stephen Evans was killed in a crash while on duty for the City of Burns. He was traveling southbound on Highway 77 when he went to make a U-turn and was struck by a truck traveling in the same direction. Deputies and other first responders tried to revive Evans, but he died on the scene.
Officer Evans served as a part-time officer with the Burns Police Department and as a full-time deputy with the Butler County Sheriff's Office for 16 months. He was the Burns Police Department's only officer. He had previously served with the Kansas Department of Corrections for 15 years.